Company registration in Colombia
If you plan to register a new company in Latin America, Colombia is one of the most sought-after countries to do so. Colombia is known for its solid and growing economy. Colombian laws also protect investors more than countries like the US and Germany. Here we talk about Colombia Company Registration and guide you through the various steps so that the whole process is totally hassle-free for you.
How to register a company in Colombia?
Branch offices

A branch office is legally an extension of the head office and thus considered the same legal person for several purposes under Colombian law. In this regard, it is worth noting that in Colombia, a branch office participating in a state contract bid may avail itself of the experience of the head office as if it were its own, since the branch office and the head office are considered the same company.

These are the steps to register the branch office: a) the parent company act which authorizes the opening of the branch in Colombia, this act have to contain the bylaws of the branch office, also it needs to be notarized; b) Registration with the local Colombian Tax Authorities (DIAN); c) Registration with the Colombian Chamber of Commerce.

Simplified Shares Corporation (SAS)

The Colombia SAS is the most preferred legal entity used by entrepreneurs registering a company in Colombia. It is a newly recognized type of corporation. Its main feature is its simplicity for purposes of registration and of its basic functions (decisions, meetings, liquidation, etc.).

A SAS requires only 1 director and shareholder who can either be an individual or a legal entity. The director and shareholder can be of any nationality and can reside in any country.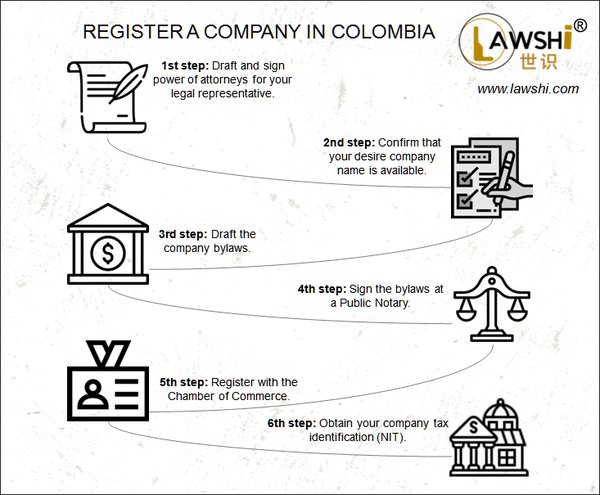 Steps to register a company in Colombia
There are several formal legal steps to register your company in Colombia. Make sure to get assistance and advice from a local legal expert in the country, to ensure you comply with all corporate law and accounting requirements, also you could check our article on Colombia corporate law to better understand what to expect when registering a company. Following are the steps to register a company according to the colombian legislation:
- Draft and sign power of attorneys to your legal representative.
- Confirm that your desired company name is available.
- Draft the company bylaws.
- Sign the company bylaws at a public notary.
- Register with the Chamber of Commerce.
- Obtain your company tax identification (NIT).


Lawshi lawyers work across sectors and countries in Latin America to deliver advice to you wherever you operate. Our focus is on helping you mitigate risk and benefit from innovation, enabling your business or organization to thrive. If you have any queries about the business opportunities in your country of interest or anything to do with a specific Latin American industry, do not hesitate to get in touch with us at service@lawshi.com.